Ingredients
1 pkt Roi Thai Green Curry Simmer Sauce
500g Monkfish or other firm fish, diced. You can also use chicken thighs, diced fine
2 cloves of garlic, minced
1 tbsp fresh ginger, minced
1 can bamboo shoots
1 cup celery, diced fine
1 cup small button mushrooms, halved
2 cups sugar snap peas
1 tbsp coconut oil (or extra virgin olive oil)
Salt and pepper to season
2 red chillies, sliced to garnish
Instruction
In a large skillet or wok over medium-high heat, melt the coconut oil.
Add garlic and ginger and sauté for about 1 minute until fragrant, take care not to burn the garlic.
Add all vegetables except for the chilli and sauté for another 5 minutes until softened.
Add the fish or chicken and the Roi Thai Green Curry Simmer Sauce and stir to combine the ingredients. Simmer for 4-5 minutes for the fish or 8-10 for the chicken.
Remove from the heat and season with salt & pepper to taste.
Garnish with chilli and serve with rice.
(Recipes and Images Copyright Chef Jimmy Boswell 2014)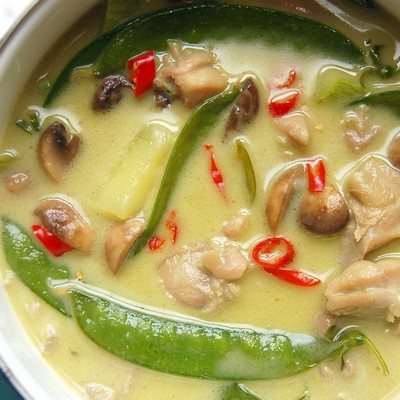 Find our products at leading supermarkets throughout New Zealand