Ingredients
1/2 cup nut butter (we used almond)
1 cup mashed banana (about 2 medium sized bananas)
1 cup frozen berries
2 cups oats
1/2 cup buckwheat flour
1 tsp baking soda
1/2 cup Pureharvest Oat Milk 
2 tbsps Pureharvest Rice Malt Syrup 
1 tsp vanilla essence
1 tsp cinnamon
1 pinch salt
Instruction
Preheat the oven to 180°C and grease a muffin tray.
In a large bowl, combine the rolled oats and milk, then set aside. In a separate bowl, thoroughly mix together the mashed banana, rice malt syrup and nut butter. Add the vanilla essence and also set aside. In another bowl, sift together the buckwheat flour, baking soda, salt and cinnamon.
Now it is time to combine everything together. Firstly, add the banana mixture to the oat mixture. Then gradually add in the flour, stirring thoroughly to ensure that no lumps form. Finally, add the frozen berries and roughly mix through.
Spoon into the oiled muffin tin and place in the oven for 35 minutes or until golden brown on top.
(Recipes and Images Copyright Pureharvest)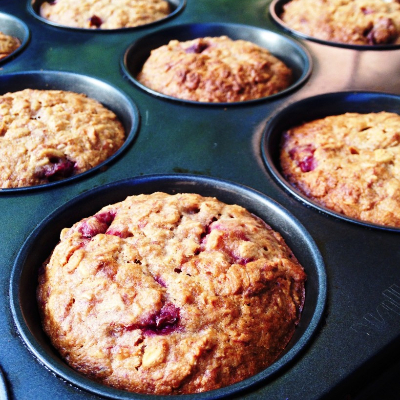 Find our products at leading supermarkets throughout New Zealand