Ingredients
MUSHROOM SAUCE

3 cups mushrooms, measured sliced  (180-200 grams)
1/2 small brown onion
1/2 small bunch fresh parsley
1 clove garlic
1 tsp dried thyme
2 tsp   Tamari 
3 tbsp nutritional yeast
2 tsp cornflour
Pinch of salt & pepper
1-2 tbsp  Extra Virgin Olive Oil for cooking

TO SERVE

2 servings Pasta of choice – pictured is gluten free brown rice spaghetti
​​​​​​​2 cups diced pumpkin – OPTIONAL (can add other veggies if you like)

( Recipe and images Copyright Pureharvest 2018)
Instructions
If you're using the pumpkin, start the recipe by getting this into the oven to roast. Drizzle in a
little olive oil, spread out over a tray and bake at 180C until soft.
Prepare for the mushroom sauce by whisking together the almond milk and Cornflour,
and then set this aside. Also finely chop up about half of the parsley leaves.
Finely slice the onion and garlic. Heat up a fry pan to a high heat and add 1 tbsp of olive oil.
Add the onion and garlic and cook for 1-2 minutes or until the garlic smells fragrant and the
onion is just translucent. Add the sliced mushrooms, dried thyme and another tablespoon of
olive oil, and cook for another 2-3 minutes or until the mushrooms are browning and
softening.
Reduce the heat of the stove to low-moderate. Sprinkle over the nutritional yeast, tamari and
a grind of black pepper (don't add salt now as you'll want to check how salty the tamari will
make it). Stir the mixture so everything is incorporated.
Grab the cornflour/almond milk mixture. Give it a quick whisk to ensure the flour is mixed in,
then pour it into the pan. Stir everything together, and the sauce should bubble and thicken.
Sprinkle in the chopped parsley leaves. Continue to cook until the sauce is thickened to your
liking then remove from the heat. Taste test and season with salt and pepper as necessary.
Cook pasta according the packet instructions. Once the pasta is cooked and drained, return
it to the cooking pot and stir through half the mushroom sauce, and add the roasted pumpkin
in too if using it. This can be done over a low heat on the stove to warm everything up.
Divide the pasta between two serving bowls. Top with the remaining mushroom sauce and
the rest of the fresh parsley. Serve!
(Recipes and Images Copyright Chef Pureharvest 2018)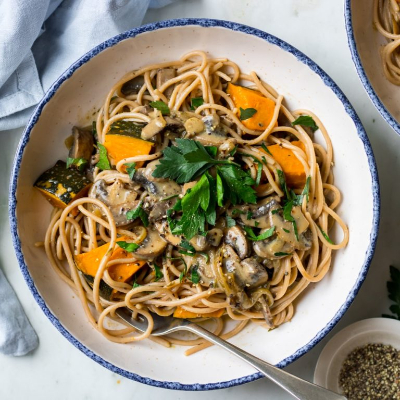 Find our products at leading supermarkets throughout New Zealand