Ingredients
2 slices bread of choice – grainy gluten free bread is pictured
75  ml Pureharvest Golden Quench (just under ⅓ cup)
1 large egg
1 tsp vanilla extract
1/2 tsp cinnamon – OPTIONAL
1 tbsp Coconut oil, for cooking
Generous drizzle Pureharvest Rice Malt Syrup , to serve
Handful of  Fresh or frozen berries, to serve
Instruction
Crack egg into a bowl and whisk. Add milk and vanilla and whisk again.
Heat a non-stick fry pan to a moderate heat and add a tsp of coconut oil.
Dip a slice of bread into the milk mixture and soak for about 10 seconds (turn it over in the mixture to soak it as needed). Carefully pick it up and let any excess mixture drip off, then place into fry pan.
Cook the bread for 2-3 minutes, then flip and cook for a further 1-2 minutes or until nice and golden brown on both sides. Repeat with the second slice of bread.
Serve the toast with a drizzle of rice malt syrup and berries.*To make the berry sauce pictured, simply place about ¾ cup frozen berries in a small pan on the
stove with 3 tbsp water and 1 tbsp rice malt syrup. Cook, stirring gently, until a sauce forms.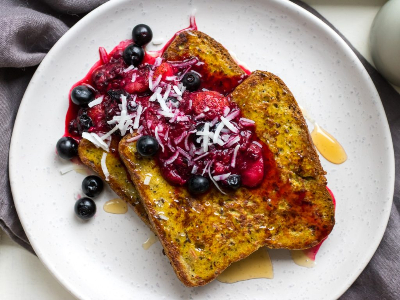 Find our products at leading supermarkets throughout New Zealand