Ingredients
1 pkt Roi Thai Tom Yum Sauce
400g prawns, peeled and deveined
1 tbsp olive or coconut oil
1 tbsp grated fresh ginger
2 garlic cloves, minced
1 medium onion, chopped
1 tsp sea salt
1 tsp freshly ground black pepper
1/2 cup fresh coriander, coarsely chopped
Instructions
Heat the oil over a medium high heat in a heavy based large skillet or wok.
Add the onion and sauté until soft but not brown, 2-3 minutes. Now add the garlic, ginger, season with salt and pepper and sauté until fragrant, 1 minute.
Add the Roi Thai Tom Yum Sauce and simmer 5 minutes.
Stir in prawns and cook until they turn pink and are just cooked through. Stir in coriander. Taste to adjust seasoning and serve immediately in bowls with basmati rice or fresh steamed vegetable greens for low carb.
(Recipes and Images Copyright Chef Jimmy Boswell 2014)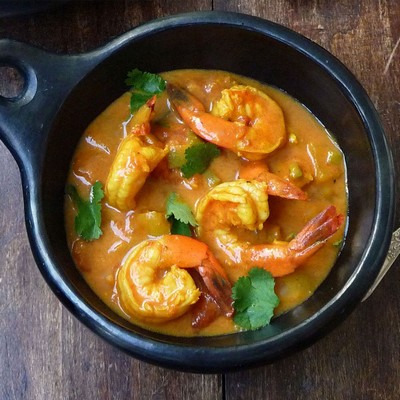 Find our products at leading supermarkets throughout New Zealand