Ingredients
8 Sunreal dried apricots
1/4 cup Sunreal dried pitted prunes
1/4 cup Sunreal dried pitted dates
1/2 cup chopped pineapple, fresh is best
1/2 cup white wine
1/2 cup apple juice
1 star anise
1 small cinnamon stick
1 tbsp sugar
Instructions
Combine all the ingredients in a pan and bring to a boil. Cover the pan and simmer until fruits are tender, about 10 minutes.
Put compote in a bowl and allow it to cool to room temperature. Remove the star anise and cinnamon stick.
Serve in a plate topped with whipped cream or vanilla ice-cream.
(Recipes and Images Copyright Chef Jimmy Boswell 2014)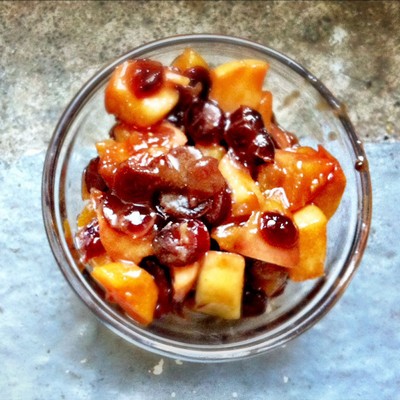 Find our products at leading supermarkets throughout New Zealand