Ingredients
1/2 cup Sunreal dried diced apricots
1/4 cup Sunreal dried cranberries
3 cups plain untoasted muesli
1/2 cup desiccated coconut
1/2 cup chopped pistachios
1/3 cup caster sugar
1 egg, lightly beaten
1 1/4 cups self-raising flour
185g butter, chopped
1/2 cup golden syrup
Instructions
Preheat oven to 180°C/160°C fan-forced.
Line a 20cm x 30cm lamington pan with baking paper, allowing a 2cm overhang at both long ends.
Place muesli, coconut, apricots, cranberries, pistachios, sugar, egg and flour in a large bowl. Stir well to combine.
Melt butter and golden syrup in a small saucepan over medium heat until melted and combined. Add butter mixture to muesli mixture and stir to combine.
Spread mixture into prepared pan and smooth the top. Bake for 20-25 minutes or until firm to touch and golden.
Cool completely before cutting into slices.
(Recipes and Images Copyright Chef Jimmy Boswell 2014)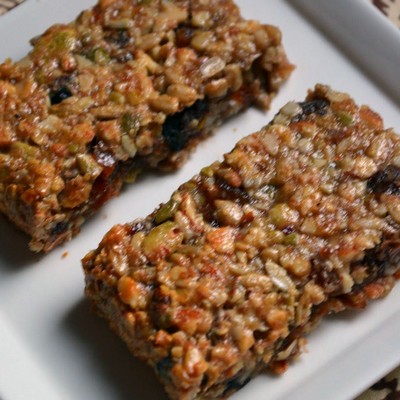 Find our products at leading supermarkets throughout New Zealand