Ingredients
1 pkt Roi Thai Massaman Curry Simmer Sauce
2 tbsp coconut or sunflower oil, divided
600g lean beef, lamb or goat meat cut into 3cm cubes
1 large onion, diced
3 large carrots, thickly sliced
1 cup celery, diced
2 cups beef stock
1/4 cup fresh coriander leaves
Instructions
Heat 2 tbsp oil in a large heavy based saucepan over medium-high heat. Cook beef, in batches, for 2 – 3 minutes or until browned, then transfer to a plate and set aside. Tip any liquids from the meat over it on the plate.
Add the remaining oil into the pan. Add the onion and celery and cook, stirring for 5 minutes or until softened. Add the Roi Thai Massaman Curry Simmer Sauce and cook, stirring, for 1 minute or until fragrant.
Return beef to pan, add carrots and stock and bring to the boil. Reduce heat and simmer, covered, for 1 hour or until beef is tender.
Serve Massaman Curry with fresh coriander sprinkled on top with a bowl of steamed jasmine rice and lime wedges on the side.
(Recipes and Images Copyright Chef Jimmy Boswell 2014)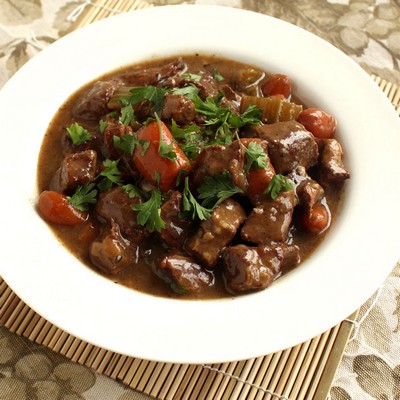 Find our products at leading supermarkets throughout New Zealand