Ingredients
12 FRAGATA pitted black olives, chopped
2 tbsp FRAGATA capers
¼ cup olive oil
1 medium onion, chopped
400g Italian (Roma) tomatoes, skinned, diced and crushed with juice
4 snapper fillets or firm white fish of choice
½ cup white wine or vegetable stock
1 cup chicken stock
salt and freshly ground black pepper, to taste
Instructions
Preheat oven to 175 °C.
Heat olive oil in a large oven proof sauté pan over medium heat. Add olives, onion and capers and cook until onion is translucent.
Add tomatoes and simmer for 5 minutes. Place snapper fillets in the pan and add wine, stock, salt and pepper.
Place pan in oven and bake for 15–20 minutes. Serve fillets with sauce spooned over top.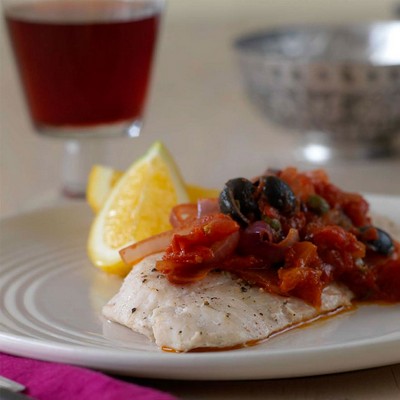 Find our products at leading supermarkets throughout New Zealand