Ingredients
1 cup FRAGATA Pimiento stuffed green olives, drained and diced
2 large firm fillets of fish e.g. Monk, cut into large pieces
1 small onion, cut in to thin slices
3 cloves garlic, peeled, smashed and diced
olive or coconut oil
1/2 cup white wine
2 large tomatoes (cut in chunks or 6 strawberry tomatoes halved)
2-3 cups tomato passata (tomato puree)
1/4 tsp red chilli flakes (optional)
1/2 cup fresh parsley (chopped)
1/4 cup fresh basil (chopped)
salt and fresh ground black pepper
Instructions
In a large pot, add a nice layer of oil to the bottom and heat on medium. Add onions and garlic and cook gently until soft (about 6-8 mins.) Add the white wine and continue to cook down for about 10 mins.
Place the Fish pieces in a single layer on top of the onions. Sprinkle in the minced Olives.
Add the tomatoes, chilli, parsley, basil and season with salt and pepper. Pour in the Tomato Passata. Increase heat just till it starts to simmer, then cover and reduce heat to low.  Cook for about 30 minutes.  Now and then, gently stir a bit and move fish around to cook evenly.
To serve remove fish to a warm plate. Ladle the sauce into warmed bowls then top with fish pieces.
(Recipes and Images Copyright Chef Jimmy Boswell 2014)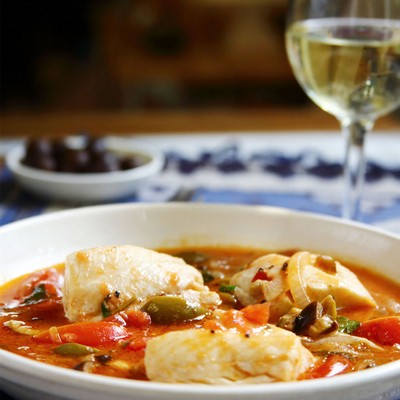 Find our products at leading supermarkets throughout New Zealand