Ingredients
½ cup FRAGATA Pitted black olives
1 kg roasting potatoes, washed, halved or quartered
1 small onion, diced
4 cloves garlic, chopped
1 capsicum, chopped
1/3 cup raisins (dark or golden)
handful of grape or cherry tomatoes, halved
handful of baby spinach leaves, washed and patted dry
¼ cup olive oil
½ – ¾ cup chicken or vegetable stock (broth)
400-g skinned, diced Italian (Roma) tomatoes
1 tsp fresh thyme
1 sprig fresh rosemary, chopped
sea salt and freshly ground black pepper, to taste
hot red chilli flakes, to taste
Instructions
Preheat oven to 175 °C. Lightly oil the bottom of one large baking dish.
Put the potatoes into a bowl. Mix in the onion, garlic, capsicum, raisins, tomatoes, spinach leaves and FRAGATA black olives.
Add the olive oil, ½ cup stock and diced tomatoes with juice. Stir to combine. Add the thyme and rosemary and season with salt and pepper. Add a shake of chilli flakes, if desired. Stir to coat all the potatoes. Add a splash more stock if needed to keep everything moist.
Spoon the potato mixture into the oiled baking dish or dishes. Roast in the centre of the oven until the potatoes are slightly browned and fork-tender – approximately 35–45 minutes, depending on the size of the potato pieces.
(Recipes and Images Copyright Chef Jimmy Boswell 2014)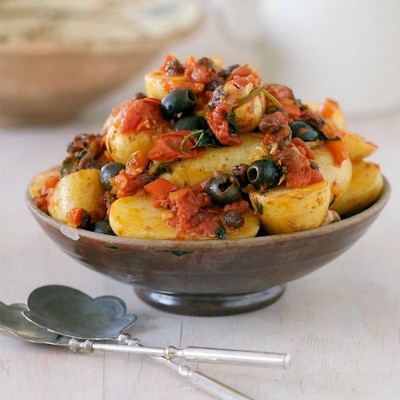 Find our products at leading supermarkets throughout New Zealand